Pigmentation & Uneven Skin Tone
Darker patchy areas of pigmentation can appear and there are a host of reasons why they present themselves. 
By far the biggest culprit is over exposure to UV or the sun.  Melanin acts as a barrier protecting skin cells from heat.  Too much exposure to this ultimately damages the skin's production of melanin and too much can be generated thereby creating darker patches of pigmentation. 
There are varying distinctions of pigmentation and a variety of reasons behind them:-
Freckles (Ephilides) – a minor skin marking often genetic
Post Inflammatory pigmentation – attributed to skin trauma or damage (acne scarring, ingrowing hairs etc)
Chloasma, Melasma – specific to hormone changes or imbalance generated from adolescence, contraceptive pill, pregnancy and menopause.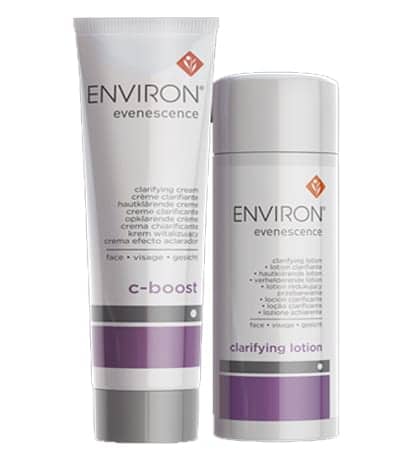 Environ C Boost & Clarifying Lotion